Help for Pets in Crisis
January 4, 2019
New Pet Protection Program provides temporary housing in domestic violence, other crises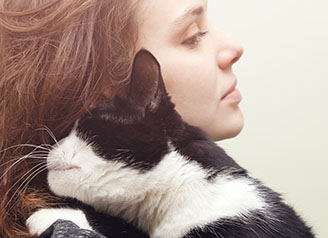 Kitsap Humane Society's new Pet Protection Program offers a temporary safe haven for cats belonging to victims of domestic violence and people experiencing job loss, homelessness or other unexpected life changes. The program provides a foster home for cats until the pet owner finds stable housing for a period up to 90 days, at no cost to the pet owner. Cats will be cared for in approved KHS foster homes, as well as at the shelter, or in area veterinary offices and boarding facilities when needed. 

"Each year, we have over 100 cats surrendered due to the owner being homeless, getting evicted, having their house foreclosed on, going through a divorce/separation, being unable to afford the daily care of the animal, or due to the health of the owner," said Sarah Moody-Cooke, KHS Director of Animal Welfare. "This program empowers pet owners by giving them the opportunity to get back on their feet without having to give up a beloved family member or worry about who will care for their pet during a time of crisis."
KHS also get many requests for assistance each year from social service agencies on behalf of clients who need temporary housing for their pets while they deal with unexpected challenges in their lives. In the majority of these cases, pet owners do not need nor want to surrender ownership of their pets permanently, but are forced to so because they do not have any short-term options for housing their pet.
Cats must be older than 6 months and pass an intake evaluation to be admitted to the program and there is no cost to the pet owner for this program. If the cat(s) have not been spayed/neutered or microchipped prior to admission, those services will be provided by KHS at no cost. Animals that become ill during their stay will be treated by veterinary staff. Donations are welcome to help offset program costs.
The cats may be retrieved by their owners at any time during the program contract, upon arrangement with KHS staff. The Pet Protection Program is confidential and will protect the privacy of participants, an important aspect of assisting victims of domestic violence.
You can learn more about the program here.