KHS a State & National Leader
August 4, 2018
Kitsap Humane Society's Director of Animal Welfare, Natalie Smith, presented at the Best Friends Animal Society national conference July 19-21 in Los Angeles, which brings together animal welfare organizations from across the nation to share strategies and exchange ideas to help make the U.S. no-kill by 2025.
Her workshop,  "Adopters Welcome: Re-imagining Your Pet Adoption Program," engaged about 100 participants in ways to save more animals through progressive and customer-friendly adoption policies. KHS provided one-on-one consultations during the "Ask an Expert" sessions, helping other organizations with adoption, foster, and surrender questions.
"It was such an honor for KHS to be represented as a leader in animal welfare on the national stage," Smith said, "and for our hard work over the past five years to serve as a roadmap and inspiration for other shelters and rescues who want to grow their lifesaving impact."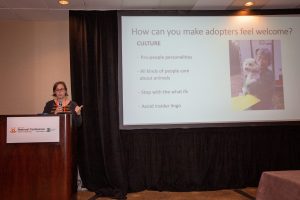 On the statewide level, KHS is a proud founding member of the newly launched Pet Alliance of Washington, whose goal is to collaborate with the shared mission of saving more animals' lives across the state.
"KHS is excited to work with other animal welfare organizations to improve the save rate for animals through transfer partnerships and mentoring," said Sarah Moody-Cook, KHS' assistant director of animal welfare.
"This coalition is a great way to build relationships that can take our lifesaving work to a new level," she said. "As a leader in progressive animal sheltering, we are in a wonderful position to help other organizations improve their lifesaving programs and employ animal welfare best practices."
Photos Courtesy of Lori Fusaro, Best Friends Animal Society