Kids + PetsWALK = FUN
July 5, 2018
Here at Kitsap Humane Society, we get lots of inquiries from parents whose children love animals and want to do something good to help pets in our community.
PetsWALK does just that. It's a charity walk to support the care of animals in need at Kitsap Humane Society. Involving your kids in PetsWALK, presented by Poulsbo Animal Clinic, is a great way to teach them about compassion, empathy, philanthropy and community engagement.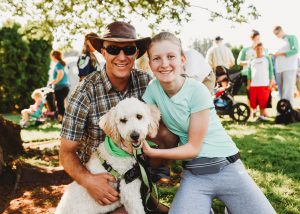 Plus, PetsWALK is FUN, good exercise and supports a great cause! You don't need a pet to enjoy this special event. But if you DO have a pet who does well with other pets and people, he or she is welcome to join you at PetsWALK!
All proceeds from PetsWALK help Kitsap Humane Society provides shelter, food and medical care for injured, stray, lost and abandoned animals. We have a life-saving rate of 96 percent and also prevent pet homelessness with our low-cost spay/neuter and microchip/vaccine clinics serving thousands of pets and their families every year.
Sign up now and start fundraising! It's as easy as 1-2-3!
Step 1: Register for PetsWALK at https://petswalk.rallybound.org/ and ask family members and friends to donate. (Grandma & Grandpa LOVE donating to kids' PetsWALK fundraising pages!)
Step 2: Raise $ and Awareness for PetsWALK: Lots of children enjoy having a lemonade stand, a bake sale, a pet food drive, or a birthday party with donations going to their PetsWALK fundraising total. There are awesome prizes for fundraising!
Step 3: Lace up your tennis shoes and meet us at PetsWALK! After the 5K walk, stay for the Pet Expo, or participate in one of our contests! We'll have kid's dashes (for kids under 12), a costume contest, a talent contest, and an agility course to try out with your dog!
Hope to see you and the family at PetsWALK!