Come for the walk. Stay for the party!
July 12, 2018
Kitsap Humane Society's PetsWALK is celebrating its 25th year on July 21!
With our 5K walk or run starting at 9 a.m., the fun at PetsWALK doesn't end there! This year, our Pet Expo will be bigger and better than ever! This is a day you don't want to miss!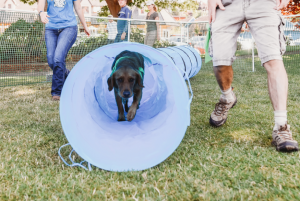 We have over 30 vendors lined up to fill the Muriel Williams Iverson Waterfront Park in Downtown Poulsbo. With giveaways, coupons, raffle prizes, games, and contests, our vendors will be celebrating all things pets. We will have an agility course set up with Kitsap Humane Society's Canine Behavior and Training Coordinator, Ashley, working with you and your pet to give ramps, tubes (and more) a try! And our costume and talent contests return, as well as a shorter dash for the speedy kiddos under 12 years old.
Throughout the morning, a few of our sponsors will be dropping some knowledge about topics of importance to you and your pet. Dr. Craig from Presenting Sponsor Poulsbo Animal Clinic will be talking about lameness in pets, what to watch for and what to do. A bit later, Pet Expo Sponsor VCA Central Kitsap will have Dr. Cook speak about fear-free summer travel. And rounding out the lineup are our friends at West Sound Wildlife Shelter. They'll be covering wildlife and your pets, with tips and tricks on how to live harmoniously.
Don't forget to hit up our Kitsap Humane Society booths! In case your license is overdue, our licensing team will be on-site to make licensing a breeze. Our foster and adoption booths will be showcasing adoptable animals (yes, you can take home a new fuzzy family member right from PetsWALK!). And you can learn all about fostering kittens, puppies and more.
If you've fundraised for KHS through PetsWALK, THANK YOU! The Pet Expo is where you'll pick up your fundraising prizes! The tote bags came in yesterday and are looking SHARP! And we are excited for this year's sweatshirts, Kurgo swag, and more. You can pick these prizes up within the pavilion right behind the main stage at the Waterfront Park.
And if you didn't buy a T-shirt but definitely want one, then head to our prize pick-up and merch area! We will have signature 25th anniversary PetsWALK shirts available for sale! With bright sleeves, a comfortable fit, and a stylish design, these shirts are perfect for wearing out and about to show your love for KHS and shelter pets.
Can't wait to see you at PetsWALK! Help us celebrate our 25th year. Sign up today at http://petswalk.rallybound.org