$60,000 Raised at PetsWALK!
July 24, 2018
Boy, did we have a FUN party! More than 400 animal-loving supporters and their pets met in Downtown Poulsbo for our 25th anniversary PetsWALK. The two- and four-legged crowd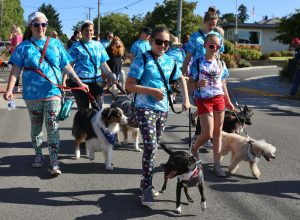 at the Lions Park starting line was vibrant, energetic,and even decked out in costumes!
When our community comes together, some amazing things happen! Through fundraising, sponsorships, and entry fees, our supporters raised $60,000 for the lifesaving work at Kitsap Humane Society.
We had dogs, cats, rats, rabbits, and more this year! After running, walking and crawling their way down to Poulsbo's Waterfront Park, participants enjoyed a robust and lively Pet Expo with over 30 animal-centric vendors and sponsors. Participants were able to go from booth to booth, collecting give-a-ways, coupons and information about products and services to help our pets be happy and healthy.
We had 10 kids participate in our kid's dashes and their little legs were REALLY moving! We also enjoyed pets (and people) in costumes and were blown away by the talent of some of our friends with fur.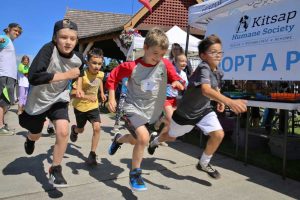 Poulsbo Animal Clinic's Dr. Adams — our Presenting Sponsor — spoke about lameness in pets. VCA Central Kitsap's Dr. Cook talked about fear-free summer travel. And our friends at West Sound Wildlife Shelter talked about how to have harmonious relationships between our pets and wildlife.
We are so in awe of our animal-loving supporters. Thank you for supporting shelter pets through PetsWALK! We love you guys!!!!