Petco Awards $150,000 Grant
April 3, 2018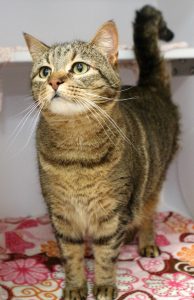 Kitsap Humane Society has been awarded a three-year, $150,000 grant from the Petco Foundation to support improved housing and care for animals and higher adoption outcomes, particularly for cats in need.
"KHS is thrilled to have our important lifesaving work recognized and supported by Petco Foundation," said KHS Director of Animal Welfare Natalie Smith. "Our team is always looking for ways to enhance our programs and services to help animals and the people that love them. This investment from Petco Foundation will allow us to make such a positive impact on our community."
The Petco Foundation investment will help Kitsap Humane Society to improve housing for animals at the shelter and reduce the tragedy of unwanted and homeless pets in our community and among our shelter partners. Smith said the grant will allow KHS to increase adoption opportunities, improve the capacity for care of animals with behavior and medical issues, expand transfers of at-risk animals from partner shelters, and expand robust and targeted spay/neuter programs.
"We are proud to support Kitsap Humane Society's lifesaving work," said Susanne Kogut, President of the Petco Foundation. "We hope this investment will help to sustain the organization's lifesaving efforts and help even more pets find loving homes."
Kitsap Humane Society is highly regarded locally and nationally for its lifesaving work. Its lifesaving rate of 96 percent is a testament to the individualized care each pet receives. More than 7,000 animals in need came through the doors of Kitsap Humane Society in 2017, and more than 6,810 were placed with families – an all-time record and the fourth consecutive year of lifesaving growth.
For more information about Kitsap Humane Society or the Petco Foundation, visit www.kitsap-humane.org or www.petcofoundation.org. Join the conversation on Facebook, Twitter and Instagram or by using the hashtag #PetcoFamily.
About Kitsap Humane Society
Kitsap Humane Society is a private, nonprofit, charitable organization that has been caring for animals in need since 1908. KHS admits more than 7,000 animals per year. KHS' vision is that every adoptable companion animal has a home.
 About the Petco Foundation
At the Petco Foundation, we believe that every animal deserves to live its best life.  Since 1999, we've invested more than $200 million in lifesaving animal welfare work to make that happen. With our more than 4,000 animal welfare partners, we inspire and empower communities to make a difference by investing in adoption and medical care programs, spay and neuter services, pet cancer research, service and therapy animals, and numerous other lifesaving initiatives. Through our Think Adoption First program, we partner with Petco stores and animal welfare organizations across the country to increase pet adoptions. So far, we've helped more than 5.5 million pets find their new loving families, and we're just getting started. Visit petcofoundation.org to learn more about how you can get involved.