It's a Pints for Pets Month-Long Pup Crawl!
February 28, 2018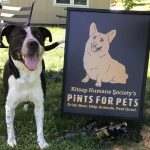 As many of you know, our Pints for Pets events take place once a month at Breweries across Kitsap County. We are joining with some of our favorite brewery partners to hold a month-long Pup Crawl! This event can be done completely by yourself or with your own group of crawlers, or you can join in with other KHS crawlers!
Here is how it's going to work:
Come to our Launch Party at the Swim Deck in Port Orchard on Mon. March 12 from 6 to 9 p.m. to have a pint and get signed up!
During our launch party, $1.50 from every pour will be donated back to KHS
Guinness will be on-site etching your very own, signature Pints for Pets Guinness glass from 7 to 9 p.m. (You can create your own message for this glass!)
Not sure about the Pup Crawl? This is a normal Pints for Pets so have a pint and know you're helping shelter pets in need!
Can't make the Launch Party? No worries! We will be posting a link to our online registration site on our website. The cost will be slightly different as your post-launch party registration won't come with an etched glass. But you'll still receive your T-shirt upon completion.
At the Launch Party, the Pup Crawl costs $30 and comes with the following:
A Pints for Pets glass with wording of your choice etched by Guinness
A stamp card to take to our six Pup Crawl Partners
A T-shirt upon completion of the crawl
After the Launch Party, you will have four weeks to hit four additional breweries before our Celebration Party at Bremerton Bar & Grill on April 11. Our brewery partners include:
Dog Days Brewing
Lovecraft Brewing
Downpour Brewing
Bainbridge Island Brewing
We will create a private Facebook Group that, upon registering, you can join! We will share updates, you can share pictures, and we will post about informal Pup Crawl brewery meetups during the month.
On Thur. April 11, from 5 to 10 p.m. we will be celebrating at Bremerton Bar & Grill! Stop by with your completed stamp card and pick up your T-shirt. And stay for some snacks and a beverage! 20% of sales will be donated to KHS from our Pup Crawl Celebration Night!
Can't make the Celebration Party to get your T-shirt? No worries! We will have T-shirt pick-up available at KHS as well.
And the best part, $1.50 from every Pup Crawl brew will be donated to KHS. We can drink good brew and know that we are helping shelter pets in need!
Unfortunately, our canine and feline friends aren't able to join us at the Swim Deck or Bremerton Bar & Grill. But they are allowed at the other four breweries! So have a brew with your canine crew!
Missed the Launch Party? No worries! Click here to sign up today!