Pets of the Week – Georgie Porgie and Pie
August 8, 2017
Meet Pie (ID 64704) and Georgie Porgie (64705)! They are gorgeous 4-month-old longhaired kittens that arrived at the shelter orphaned and very scared of people. After weeks in foster care, they are now little love bugs and ready for a forever home!
We would love to find them a home together since they are such good friends and playmates. Georgie Porgie helps Pie be more brave. Pie can still be shy and nervous in new situations and with new people, so will need a quiet, patient home. Once she is comfortable, and with the help of a little coaxing and affection, Pie blossoms in to a playful, sweet kitty. Pie loves petting and will twirl between your ankles looking for pets. Pie really likes to play with cat wand toys, shoelaces, and fake mice. She really loves snuggling in comfy cat beds, and enjoys the nest areas of cat trees. Georgie Porgie LOVES to play and climb – his favorite spot is on the cat tree by the windowsill so he can watch everything. He also loves to chase wand toys, balled up paper, fake mice toys, you name it – oh and shoelaces! He is good about being picked up and is learning to perch on your shoulder! Georgie Porgie loves snuggling and very easily is transformed into a little purr machine. These two will be nervous and timid at first in their new home, but with patience and love will settle in and bond to their new family.
This adorable pair is in foster care, so if you're interested in adopting them, please e-mail Natalie at nsmith@kitsap-humane.org.
Pie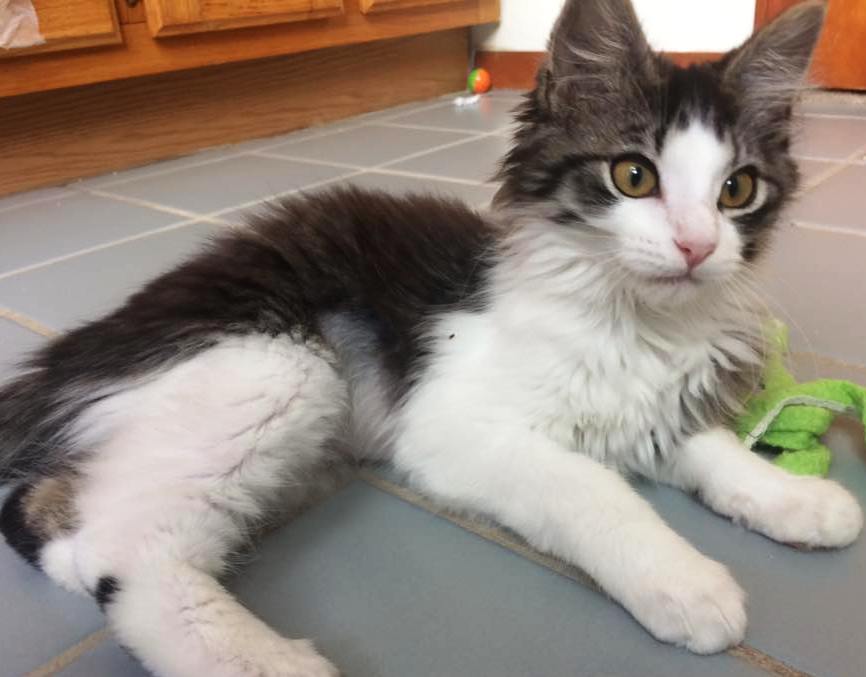 Georgie Porgie