Save a life, adopt a barn cat!
May 30, 2017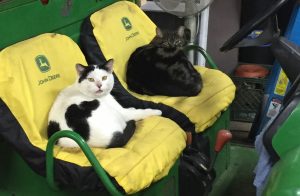 Our Barn Cat program is a placement program for cats who are not a good match for traditional adoptive homes. Cats that are considered for placement through the Barn Cat program are feral, asocial, or are simply happiest as outdoor pets. At many shelters across the country, these cats are often euthanized for being "unadoptable" for regular indoor family life, but at KHS we are committed to finding these cats a lifesaving solution! All the photos featured in this story are of cats adopted through our Barn Cat program- look at those happy faces!
Barn cat adopters provide their cats with a safe, fully enclosed shelter such as a barn, garage, shed, or greenhouse for a period of two to four weeks while the cats get used to their new home. This confinement period ensures that once the cats are allowed roam on the property, they won't wander away from their new home. After the confinement period is over, the cats will continue to have access to this shelter to help keep them safe.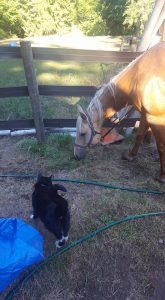 Typically, barn cats are adopted out in pairs, as they tend to hunt a bit better and are more likely to remain in their new environment when they have a companion. However, some barn cats prefer to be adopted out on their own – so we are sure to have an appropriate cat for any adopter! Adopters decide what level of sociability they would prefer to see in their new cats – some cats enjoy attention and handling, while others are more content being left alone. We then match the adopter with the cat or cats that is the best fit for their needs and lifestyle.
All barn cats adopted from our shelter are spayed or neutered, receive an ear tip and/or microchip, and receive initial vaccines to help keep them healthy. An ear tip is a universal sign that a cat has been spayed or neutered. That way, if your barn cat is spotted by a neighbor or brought into a vet clinic or animal shelter, they can be identified as having been spayed or neutered, without having to be handled for an exam, which can be stressful for the cat.
We ask that our barn cat adopters commit to caring for this pet for the rest of its life. Barn cat adopters provide their cats with fresh food, fresh water, and shelter, every day. They also commit to providing medical care for the cats if they are sick or injured.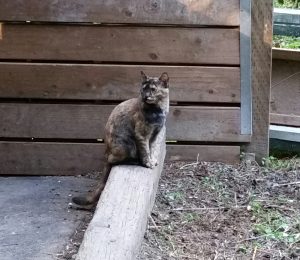 The adoption fee for our barn cats is "Pick Your Own Price"! There is no set adoption fee for these cats; instead we ask adopters to make a donation if they are able to, in order to help off-set our costs and help keep this lifesaving program running. Regardless of whether or not a barn cat adopter is able to make a donation, we truly appreciate all adopters who provide homes for these special cats!
If a barn cat seems like the perfect solution to your rodent problem, or you just want a kitty to keep you company while you are out working on your farm or garden, consider adopting a cat through our barn cat program! Applications are available here , or you can stop by our shelter any day to submit an application and see what barn cats we have available for adoption. If we don't have the type of cat you are looking for right away, we will hold on to your application and contact you as soon as we have cats available who fit your needs.
Thank you for your interest in this lifesaving program!