Day in the life: Dad the Dog
October 28, 2016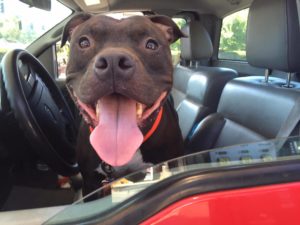 On July 29th, a woman arrived at our doors, distressed and close to tears. She had been homeless and living in her car, and she knew she could no longer care for her beloved pet of 7 years. That pet's name is Dad, and our staff and volunteers affectionately call him "Dad the Dog". Dad is a handsome, stocky American Pit Bull Terrier with a huge, endearing smile and happy, wiggly bum. Passed over by adopters for months, possibly due to his breed or color, and closing in on 100 days of being here at the shelter and waiting for a new home, we want to show off the amazing dog that our staff and volunteers have come to know and love. Our hope is that this glimpse into Dad the Dog's life at KHS will inspire a family to open their heart and home to him.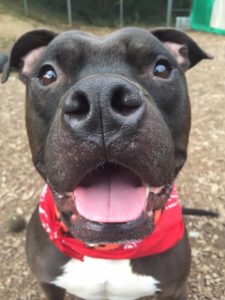 Like all dogs at KHS, Dad the Dog's day starts early- usually by 6am, when our dedicated dog walking volunteers start arriving at the shelter to take every dog out for their morning walk, play time and potty break. Dad greets the volunteers with a huge smile, always ready and eager for his morning walk.
After all the shelter dogs get their morning walks, Dad gets taken out to an private outdoor pen located in our fenced parking and storage area. As long as the weather is ok, Dad gets to spend most of his day hanging out in his little private yard with toys and a bed. But that can get boring! Luckily there are a number of volunteers who dedicate extra time to Dad every week.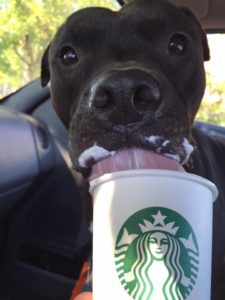 Dad's volunteer friends do a variety of activities with him to try to keep him as happy and stress-free as possible during his shelter stay. Sometimes Dad gets to go on field trips around Kitsap County. His favorite spots include the Old Town Silverdale waterfront (he loves to dip his toes in the water as long as it's not too chilly!) and the Bucklin Hill Starbucks for a puppuccino (a dog-safe, coffee-free small cup of whipped light cream). Even though he is a kind of a big meathead and could swallow a whole puppuccino in one bite, he can be quite dainty and enjoy his frothy treat one lick at a time.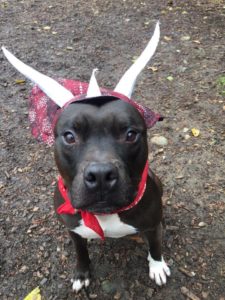 The KHS Behavior and Training Department also works with Dad the Dog. Up in the Training Center he gets lots of positive reinforcement (including lots of treats!) as he learns new skills. He loves his training time and has proven to be a smart dog who is eager to please. But it's not all work and no play! Dad gets to try out "nose work" and other fun enrichment while with the behavior staff.
As the weather has cooled Dad has been a sport about being dressed up in stylish doggie coats, and even some costumes for a Halloween photoshoot. We can't say was too happy about the costume, but he sure looked cute!
Dad the Dog's day ends around 6:30pm as staff and the afternoon shift of dog walking volunteers head home. He has to go back into his lonely kennel in the shelter, where he curls up on his blanket and dreams about having a loving family, unlimited toys, and copious kisses.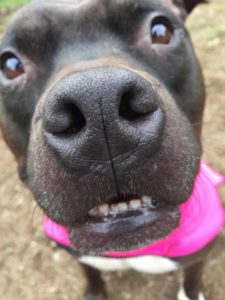 We know that there is a home out there that will love Dad. He is looking for a home where he can be an only pet, and with no small kids. He would love a home with a fenced yard so he can enjoy his outside time  and games of fetch in a safe, secure place. If you or someone you know might be a good fit for Dad, please check out our Adoption Page for more information on next steps.
Check-out what a good boy Dad the Dog is in this video where he shows off his tricks! Click here to view on Facebook!