From lost to found- an AMAZING local reunion!
September 14, 2016
Get out your tissues out for this amazing story!!!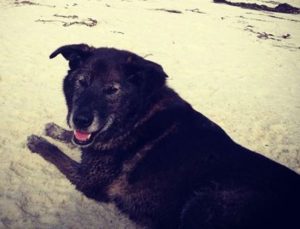 Bella, a 14 year old dog with limited eyesight and hearing, went missing from her family's campsite at Scenic Beach State Park in Seabeck last week. Her family looked everywhere for her but with trees stretching for miles, limited to no cell and internet access and unfamiliarity with the area, the odds were not in their favor. Bella's family did create a lost flyer and posted it at the Seabeck Marina hoping to catch someone's eye. They also visited KHS to look through the dog kennels in hopes someone had found her and brought her to the shelter, but had no luck. When their vacation ended, they were devastated to have to pack up their campsite and head back home without Bella.
A KHS staffer saw the flyer in Seabeck and got in touch with Bella's mom, securing a photo of Bella, which was used to post lost/missing announcements up on the Kitsap Lost & Found Pet Search and Seabeck Community Facebook groups. Word started to spread through social media and word of mouth about Bella and Seabeck neighbors and pet lovers combed the area on the family's behalf. One neighbor headed back to the campsite multiple times checking for foot prints and walking the trails and beach line looking for Bella. Other neighbors also kept a look out on neighboring roads and beaches.
Finally, last night… it all paid off!!! Bella was spotted in a neighbor's yard but bolted up the road when it was approached. The homeowners recognized Bella as the missing dog and headed out on foot to try to catch her. While tracking Bella through yards and across roads they were able to get Bella's owner on the phone, and Bella's mom hopped in the car to start making her way to Kitsap. Belle was so spooked from being on the run on her own for so long that she wasn't trusting enough to approach any strangers yet. Bella finally got onto the beach at Misery Point and hovered around as the good samaritans put a little food out for her. As Bella took a little break, more Seabeck neighbors and pet lovers showed up and helped to corral Belle into a space where she could be leashed.
All in all about 10 different people of all ages helped with Bella's capture last night. As Bella waited for her mom to arrive she was treated to a big meal, fresh water and lots of TLC- all things she had been sorely missing during her time loose in the wilds of Seabeck. Bella was overjoyed to see her (very relieved) mom, and got very wiggly and talkative! She is now back at home, surrounded by her family that loves her. What's so impressive about this reunion is how it shows the power of the love and dedication of community members and pet lovers. While Bella's story could have ended in tragedy, instead it brought neighbors and strangers together to save a life. One of the Seabeck rescuers wrote, "It is a really great feeling to have been a small piece of something so awesome- a community of people that simply care and are willing (and available) to help, at that moment! Honestly, it gives me chills. We share this brief moment in time and those feelings will bring a smile to my face for a lifetime." THANK YOU to the heroes in Seabeck who never gave up and worked together to make this reunion possible!
This story also shows that flyers and posting on social media DOES WORK when you lose a pet. Many owners who lose their pets may not make flyers or get the word out on social media right away, in hopes that their pet will find its way home, but it's important to do those steps!  For more tips on lost/found pets, please visit our Lost and Found pets page!