Fern's Story: From left for dead, to halfway home
May 27, 2016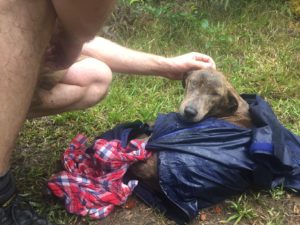 Fern is a petite, extra adorable, super sweet blue brindle Whippet-Hound mix who came to Kitsap Humane Society all the way from the Hawaiian island of Kauai. Fern's story is a true example of how it takes a village (or in this case, a community of animal lovers spanning an ocean!) to save a life.
When Washington residents Diana and her husband J.B. were vacationing in Kauai almost two weeks ago, they decided to take a Sunday hike on the Awa'awapuhi Trail. They were expecting beautiful views and stunning flora from this path through the highland forest… what they weren't expecting was to find a dog lying in the dirt, barely moving. From afar, it was not clear if the dog was alive. With some coaxing from the hikers, he finally lifted his head, and they discovered his eyes could barely open due to a thick layer of infection. No other hikers using the trail knew the dog, and it seemed clear from his poor condition, lack of collar and hunger, he had no owner. At that moment, he earned a new name- Fern.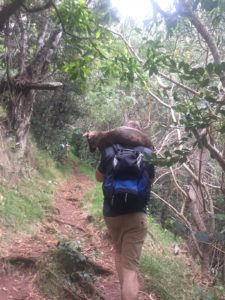 Diana and J.B. knew they could not leave Fern sick and alone to fend for himself, so they decided he was coming back to town with them so he could get some help. Getting him off of the trail meant having to carry him the 3.2 miles uphill to the trailhead, as he was too weak to walk. They fashioned a hammock out of a raincoat and shirt, and Fern curled right up and slept the entire bumpy, slippery walk back to the car. He also slept through the car ride from the trail to the Kauai Humane Society shelter in Lihue.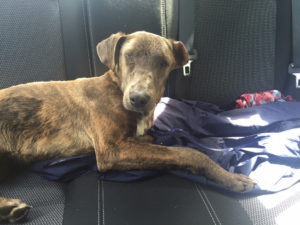 Kauai Humane Society is one of Kitsap Humane Society's Rescue Me partners, sending adoptable and at-risk pets to our shelter regularly. When Diana and J.B. talked with Kauai Humane staff they learned about the Aloha Escorts transfer program and reached out to us at Kitsap Humane to see if we could help poor Fern. Of course we said, "YES!" While with Kauai Humane, Fern got much needed treatment for his infected eyes, vaccinations, neuter surgery, heartworm testing and parasite treatment. Their staff and volunteers also showered him with TLC. His finders created a Go Fund Me site to raise funds for the organizations who helped them save Fern- a huge help for humane societies whose adoption fees cover only a fraction of the cost of care provided to pets.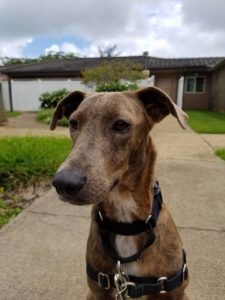 On Thursday afternoon, Kauai time, Fern was loaded up in a travel crate and dropped off at the Kauai airport with two other lucky dogs and two kittens on their way to Kitsap's adoption program. A dedicated Rescue Me program volunteer met Fern and his travel companions at the airport late at night and drove them to the shelter, getting everyone settled in with a warm bed and meal just before midnight. On Friday morning Fern will receive his intake assessment by Kitsap staff and be available for adoption starting at noon. You can visit our Adoption page for information on our adoption process.
Fern was saved from an uncertain future deep in the woods of Kauai thanks to the big hearts and strong backs of Diana and J.B., and the dedication to lifesaving and spirit of collaboration between the Kauai Humane Society and Kitsap Humane Society. You can help us continue to make many more happy endings for abandoned and unwanted dogs like Fern all over our state, region and beyond- please donate today.