What is FIV? Fighting the stigma of FIV+ cats
February 15, 2016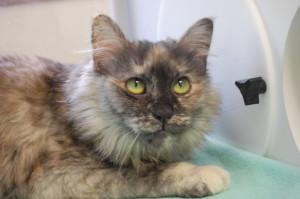 Visit most animal shelters and the adoption process will likely include asking if you'd like the cat you're adopting FeLV/FIV tested. But what does it mean? They are actually two different viruses and although they sound intimidating, they shouldn't scare you away from adopting. KHS currently has a number of FIV-positive cats looking for adoptive homes, so we thought this would be the perfect opportunity to educate our adopters and community about what FIV is!
FIV stands for feline immunodeficiency virus. FIV is a slow-developing virus that typically causes a weakening of the cat's immune system. Because FIV+ cats have a weaker immune system, they are more prone to getting secondary infections such as upper respiratory infections and dental disease. For this reason, it is important that FIV-positive cats have limited exposure to potential illness (other sick cats), are kept indoors only, and fed a nutritionally balanced diet to keep their immune system as healthy as possible. Like all adopted cats, FIV-positive cats should get regular check ups with the veterinarian and prompt veterinary care if any illness arises.
Most FIV-positive cats live happy, normal lives and have a normal length of life. FIV is not contagious to dogs or people, but can be spread to other cats through saliva to blood contact through fighting and deep bite wounds. Cats cannot spread FIV through sharing food bowls, bedding, or toys or from a person touching a FIV-positive cat and then touching a FIV-negative cat. That said, KHS recommends that FIV-positive cats be in only-cat households, or in adoptive homes with other FIV-positive cats only.
If you've got a kitty-free home or an FIV-positive cat already, please consider adopting one  (or better yet, two!) of the amazing FIV-positive cats waiting for a home at the shelter right now. Gypsy (pictured above), Tommy (pictured below), Daisy Mae, Gilbert and Enzo can't wait to meet you!