Only One Month Left of Port Orchard Cat Program!
October 5, 2015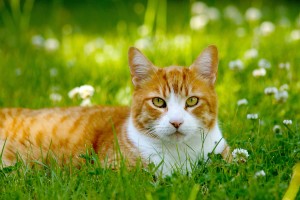 It's been just over a year since Kitsap Humane Society, with funding from PetSmart Charities, launched its Port Orchard Community Cats program, and to date over 800 outdoor and feral cats have been helped by the program. Funding for this innovative program ends November 3rd, and so KHS is hoping to get at least fifty more outdoor cats from Port Orchard spayed or neutered and vaccinated in the next month. Appointment spots in the surgery schedule have been expanded to accommodate large numbers of cats on the Tuesdays of October 15th, 22nd and 29th. Cats that come in through the program will not only get free spay/neuter surgery, but also a free physical exam, rabies vaccination and ear-tip (a small notch in the ear to indicate the cat has been altered and does not need to be trapped again). Owners of outdoor cats that utilize the program can also pay for additional care (like other vaccines, microchips, and flea treatments) and to waive the ear tip.
Kitsap Humane Society has been focusing on spay and neuter for outdoor, free-roaming and feral cats in Port Orchard because it is estimated that there are thousands of cats in the area, resulting in lots of stray and abandoned cats and kittens ending up at the shelter. So far the program has been a big win-win for both the community and the cats. Trapping and spaying and neutering outdoor cats stabilizes the free-roaming cat population in a community by preventing new litters of unwanted kittens, and reduces feline illnesses by reducing mother-to-litter transmission and transmission by fighting. It can also significantly reduce the noise and odor which arise from un-altered males fighting, mating, and marking territories.
The Port Orchard Community Cats program not only offers free surgery, but also offers free loaner traps and trapping and transport assistance for Port Orchard residents who want to trap, neuter and release (TNR) outdoor cats in their neighborhoods.
Learn more about the Port Orchard Community Cats program, or schedule FREE spay/neuter surgery for outdoor or free-roaming cats in Port Orchard NOW before time runs out!