PetsWALK a Success!!
July 14, 2015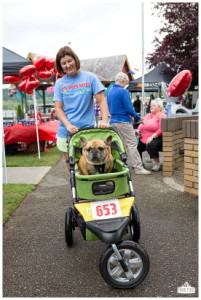 Thank you to all our participants, sponsors, staff and volunteers who made PetsWALK a resounding success last Saturday! It was definitely a dog lover's dream as runners and walkers gathered in Poulsbo's Lions Park in the morning with dozens of different breeds on foot – and in strollers. All told, 383 people and more than 125 dogs helped Kitsap Humane Society raise over $21,000 for homeless animals. A special thanks goes out to top individual fundraiser Sara Alexander and to the top fundraising team, Woof Walkers.
Although this was the 22nd year of the event, it was PetsWALK's second year in Poulsbo. And we can't say enough about our new home! The town has given us a wonderful warm welcome and Mayor Becky Erickson was very involved in the planning and making sure the event went off without a hitch. She has big dreams for the future: 500 participants next year, and a 1,000 in years to come.
Cool weather kept both 5K and 1K entrants (both people and pets) from overheating as they made their way along the scenic shoreline routes to Waterfront Park in downtown Poulsbo. Sophie was the first dog over the finish line. The first walker in was Valerie M., while Shawn P. was the first runner to cross the finish line. Jessie L. was the first-place youth runner. Kids Dash winners were Spencer G. in first, Jacob M. in second, Myra W. in third and Nicole C. in fourth. Well done everyone!
At Waterfront Park, participants visited booths from 30 vendors, many of whom handed out treats for the pets, and enjoyed live music in the afternoon by the Hometown Band. The pet costume and talent contests may very well have been the highlights of the event as they were greatly enjoyed by all. Eighteen dogs were enrolled in the pet costume contest and judges had a challenging time picking the winners. Beautiful Bella, a Doberman Pinscher, took first place dressed as Seahawk Richard Sherman, complete with dreads. But second-placed winners Reggie, Seamus and Jimmy also delighted the crowd as the "three amigos." Duke was a runaway favorite in the talent contest as he executed several tricks including slapping his owner three high fives before catching a Frisbee.
Of course, this amazing day was made possible by the 60-plus KHS volunteers who kept things running smoothly and our sponsors, including presenting sponsor Boomer's Pet Boutique, gold paw sponsor Fred Meyer, silver paw sponsors Kitsap Bank and Kitsap Bank, and bronze paw sponsors Mattress Ranch, the Humane Society of the United States, WAVE, and Central Kitsap Animal Hospital. Thanks also to our media partners Bremerton/Kitsap Access Television, the Kitsap Sun and the North Kitsap Herald. And we very much appreciate the support of the City of Poulsbo and Mayor Becky Erickson, Poulsbo Parks and Recreation, the Port of Poulsbo, the Historic Downtown Poulsbo Association, Poulsbo Police Department and Chief Al Townsend, Four Foot Photography and emcee Mark Costa. Thank you all!!