Cat & Kitten Adoption Fees Reduced in July!
July 6, 2015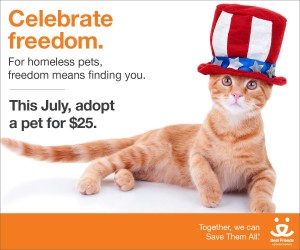 Summer is a busy time for the shelter, in part because the population of cats and kittens skyrockets as the weather warms. Last year Kitsap Humane Society took in over 700 homeless adult cats and over 1100 homeless kittens during the summer months. As the number of cats and kittens arriving at the shelter increases, adopters and foster parents are needed more than ever to open their hearts and homes to kitties in need.
To maximize lifesaving efforts this year, we've partnered with Best Friends Animal Society to offer $25 "Celebrate Freedom" adoptions for adult cats! All cats over one year old will have reduced adoption fees of $25 for the entire month of July. But it's just not the adult cats that need special attention, so we've also reduced adoption fees for kittens for the rest of July, too! Now, all kitten adoptions are half off- just $75. Adoption fees include spay/neuter surgery, microchip, vaccinations, flea treatment, dewormer, and a free vet exam at participating veterinary practices. The reduced adoption fee means adopters will have more money left over to shower their new pet with toys, treats and supplies. Learn more about our adoption process on our Adopt page!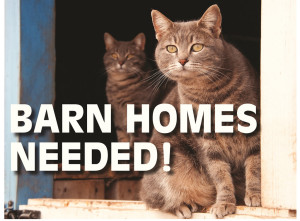 KHS's barn cat program  gets busier in the summer too, as more outdoor cats get brought in as "stray" by concerned citizens. Sometimes outdoor cats can be fearful of indoor living situations and aren't socialized with people, and so we try to pair them with a home looking for rodent control in their barn or garage. Summer is a great time to introduce new barn cats to your property, since the weather is great and prey for hunting is abundant. Learn more about our barn program on our Barn Cat page!