Meet our December Puppuccino Pal Sponsor, Jessica Neice of Evergreen Home Loans
December 1, 2022
Please meet our December Puppuccino Pal Sponsor, Jessica Neice of Evergreen Home Loans! Jessica is a Loan Officer at Evergreen Home Loans in Silverdale. She started in the mortgage industry in 2020 after working in retail banking for nearly 10 years. In her current role, she specializes in educating the community on home financing options. 
"My passion is helping people become homeowners," said Jessica. "At an early age, I realized the importance of financial stability and I have spent my career learning about money management. I want people to know that homeownership is attainable. With my background in finance and personal life experience, I aim to help everyone reach their home financing goals!" 
When asked why she chose to support the pets in need at Kitsap Humane Society through our Puppuccino Pal Sponsorship, Jessica said, "My husband and I are animal lovers. We have two rescue animals from KHS, a border collie mix named Cinder and a calico cat named Luna. The unconditional love we share for them is truly special. The veterinary care, training, and adoption center at KHS has made our lives even more fulfilling. So, we give back in any way that we can, whether it's volunteering our time, donating to the cause, or promoting their adoption site.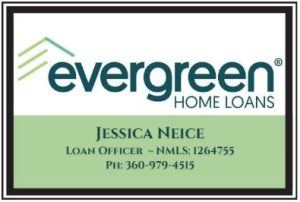 "I strongly believe that pet ownership can enhance one's quality of life. Many times, renters either cannot afford a large pet deposit or pets are simply not allowed. Owning a home enables the freedom to make pet-ownership a reality. Not only are you building wealth through homeownership, but you are creating a better life for you, your family, and your furry friends."
Learn more about Jessica and Evergreen Home Loans at www.evergreenhomeloans.com/loan-officers/jessica-neice.