Pet of the Week — Domino
April 26, 2022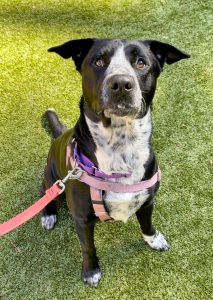 When Domino came to Kitsap Humane Society as a stray, he was unsure and fearful. He cowered in the back of his kennel, not knowing where he was or who to trust. Since then, Domino has massively improved; making new friends, experiencing new things, and learning to trust new people.
Over the past 4 months, our staff have been working with Domino daily to help him become his best self, even forming his very own support system called Team Domino! Team Domino is a group of 8 volunteers and staff who use daily enrichment, training, and advocacy to help Domino get past his fears here in the shelter and better prepare him for adoption. This group helps alleviate his kennel stress, teaches him how to greet new people, and is working on his leash skills!
Thanks to the hard work of our Behavior Staff and Team Domino we have had the pleasure of seeing Domino come out of his shell to show his playful, cuddly side. Domino even spent time in a foster home where he lounged on a couch, went for a swim, and got lots of massages! How sweet!
As Domino waits to meet his future forever family, he continues to work on all of the wonderful new things he's learned, dreaming of the day that he'll get a home of his very own. Want to give Domino a chance? He's available for foster or adoption!
You can meet Domino and other adorable and adoptable animals at Kitsap Humane Society, open for walk-up appointments on a first-come, first-served basis.