Meet Puppuccino Pal Sponsor, All Star Espresso
July 1, 2021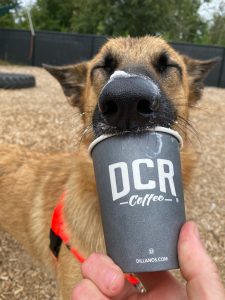 Last month we debuted our brand new Puppuccino Pal Sponsorship program. Inspired by the work of our staff and volunteers to promote adoptable dogs, KHS has shared an adorable and adoptable dog chowing down on a puppuccino (a small cup of whipped cream) every Tuesday since April 2016. This marketing and social media promotion took off! Kitsap Humane Society was featured in several local and national publications, including The Dodo, The Bark, Teen Vogue, AOL News, Refinery29, and more, where we were credited with popularizing the "secret menu item" at Starbucks and other coffee shops.
Now, we are excited to partner with local coffee shops through our Puppuccino Pal Sponsorship program! This partnership will not only help the pets in our care but it allows us to build a connection with local businesses while also sharing their wonderful work with our followers.
Meet our July sponsor, All Star Espresso
This welcoming coffee stand located just off of Silverdale Way offers a wide variety of creative drinks made with Dillanos coffee. While the lines may seem long, these drinks are worth waiting for!
All Star Espresso is part of All Star's multi-attraction family entertainment center that includes an expansive arcade, 40 bowling lanes, a casino, and a full-service diner. All Star was founded in 1985 by Tom and Pat Myers. Today, All Star remains family owned and operated.
"We love what we do and we make each cup with love," said All Star Espresso manager, Tiffany Henry.
"We chose to support KHS because we LOVE the animals! We are all for helping out when we can, and it's great that KHS offers a program where we can help promote pups and help each of them find a good home!" she said.
Check out All Star Espresso located at 10710 Silverdale Way NW Silverdale, WA 98383
Are you interested in becoming a Puppuccino Pal Sponsor? Visit https://www.kitsap-humane.org/support-us/puppuccino-pals/ to learn more!