Meet Puppuccino Pal Sponsor, Cafe Corvo
June 1, 2021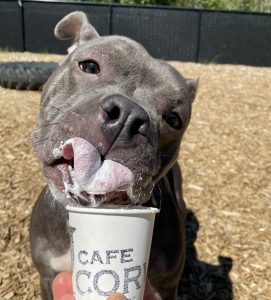 Beginning in April 2016, Kitsap Humane Society was looking for ways to promote adoptable animals when a former team member and a current volunteer came up with the idea of Puppuccino Pals.
Every Tuesday, since then, we have shared an adorable and adoptable dog chowing down on a puppuccino (a small cup of whipped cream) through our Puppuccino Pal series.
This marketing and social media promotion took off! Kitsap Humane Society was featured in several local and national publications, including The Dodo, The Bark, Teen Vogue, AOL News, Refinery29, and more, where we were credited with popularizing the "secret menu item" at Starbucks and other coffee shops.
Now, we are excited to announce that Kitsap Humane Society is offering a Puppuccino Pal sponsorship to local coffee shops! This partnership will not only help the pets in our care, but it will allow us to build a connection with local businesses while also sharing these wonderful shops with our followers.
We'd like to introduce our first Puppuccino Pal Sponsor, Cafe Corvo! 
Cafe Corvo is a quaint coffee shop that offers good coffee, kindness, and a community feel. 
With that community feel in mind, Cafe Corvo keeps things local by carrying regional coffees and most of their vendors – including bakers, roasters, t-shirt printers, and mug makers – are within a 25-mile radius. In addition, their doors are open to people of all backgrounds. Cafe Corvo is committed to inclusion across race, sex, age, ability, religion, orientation, identity, and experience. Everyone is welcome at Cafe Corvo!
True to their community drive, Cafe Corvo chose to become a Puppuccino Pal Sponsor to help the people and pets in our community. "Animal rescue, protection, and adoption are near and dear to our hearts," said Miranda Pinero, Cafe Corvo's owner. "We love, love, love the invaluable work that KHS does, and want to help in any small way that we can."
"As we all move out of this weird, challenging pandemic time we want to be a gathering spot for Bremertonians to step back into the world and see their neighbors, have coffee dates, bring their babies and dogs and bikes for a day out in the neighborhood, and to reconnect with what it means to be part of a community," Pinero said.
Check out Cafe Corvo located at 629 N Callow Ave, Bremerton, WA 98312.
Are you interested in becoming a Puppuccino Pal Sponsor? Visit https://www.kitsap-humane.org/support-us/puppuccino-pals/ to learn more!