KHS Announces Lee Harper as Executive Director
April 6, 2021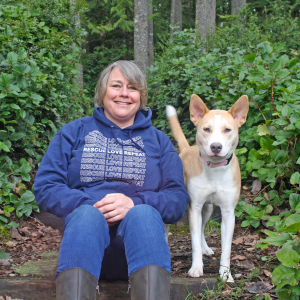 Kitsap Humane Society (KHS) is pleased to announce Lee Harper as Executive Director. Harper succeeds Eric Stevens, who will continue to serve the shelter in a part-time role as Capital Campaign/Project Director.
Under the direction of the KHS Board of Directors, with the assistance of Valtas, a local recruiting firm, and with input from shelter leadership, Harper's hiring concludes a major and concerted months-long effort to find the best match to lead the nationally and regionally recognized progressive animal welfare organization.
Officially starting April 5, Harper joins the shelter with more than a decade of experience leading the Phinney Neighborhood Association in Seattle as Executive Director.
KHS Board President Tina Chenevert shared, "We were so impressed with Lee's excellent depth and breadth of experience in executive leadership, strategic planning, financial oversight, fundraising and capital campaign experience, as well as her passion for community engagement, and her emphasis on collaborating with staff and volunteers."
"We are confident in her leadership and excited about what this next step means for KHS as well as our continued mission to transform animal welfare in Kitsap County."
KHS Board Member Dr. Scott Menard said, "Throughout the entire interview process, we were all struck by Lee's warm and friendly personality, her compassion for humans and animals alike, her proven results and track record, as well as her enthusiasm for KHS's mission and vision."
In anticipation of her first day, Harper shared, "From the start, I was instantly drawn to the culture and lifesaving mission of KHS. I'm a huge believer in the connection between pets and people, and I'm looking forward to joining this special group of staff, board, volunteers, and community members!"
A huge animal lover, Lee and her partner, David, have two dogs named Columbo and Sticks, who will all be moving to Kitsap County in the coming weeks. In her spare time, Lee is a dog trainer, and with her dog Columbo, they are a therapy dog team for Project Canine.