Why I Adopted from KHS: Hank, Kai, and Crash
January 6, 2021
Everyone has a different reason for choosing to bring animals into their family. When the search finally begins, it's time to make the choice between adopting or shopping. Here's one family's reasons for choosing to adopt from KHS not just once, but three times.
"We chose shelter animals because I think that there are so many sweet animals out there that need a home and a second chance," said one adopter. "It just seems like the best place to find the perfect animal you didn't even know you were looking for.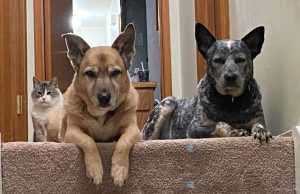 "We got our first dog (Kai from KHS via Hawaii) after the loss of my older son because my younger son hated coming to an empty home after school. Kai was the sweetest dog and has really helped us through some hard times just by being his sweet self.
"We enjoyed having a pet so much that we thought adding a cat would be fun. We saw Hank and wanted him instantly. Hank is such a funny, vocal and snuggly fat cat.
"I guess because I'm a sucker for cute pups with big ears because we added Crash to complete our little pet family. He's been a sweet ball of energy that brought out Kai's playful side.
"My son and I cannot imagine our house without them (even when they're driving us a little crazy) and often ask ourselves what we did before we had pets. We're so grateful to KHS for Kai, Hank and Crash who make us smile everyday."
Submitted by Louie Kallio