Animal Krackers Raises $317,000!
October 20, 2020
Over 1,100 supporters registered for the first-ever virtual Animal Krackers to raise a $317,010 for shelter pets at Kitsap Humane Society's 27th annual event, Oct. 16. Funds from the event will provide lifesaving care and support for the more 6,000 animals who come through the doors of Kitsap Humane Society every year.
Due to the COVID-19 epidemic, Animal Krackers took to the internet for its socially distanced auction livestream. The unique experience allowed attendees to begin viewing the online auction from Oct. 12-16 with the livestream taking place the evening of the 16th.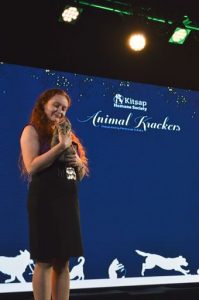 The virtual event kicked off with a magic show presented by Nash Fung, stunning the audience with his secret outfit change. After the magic show, the main event took off with a visit from Dr. Jen Stonequist, KHS Director of Shelter Medicine, and her adorable guest, Annika the kitten. Later in the night, the live auction began including extravagant items like a dinner at Seattle's Canlis going for more than $9,000. One highlight of the evening included a visit from Fig, a three-legged pup who received lifesaving care from the KHS veterinary team, who is now available for adoption.
The live auction featured an array of extraordinary items and experiences for animal lovers, foodies and travelers, ranging from having your pet featured on the cover of Kitsap Humane Society's annual calendar, to dinner at Heyday Farm and stay in Jackson Hole, Wyo.
Before the last auction items were presented, KHS Executive Director Eric Stevens introduced a tear-jerking video about caring for both pets and people when they need help the most. The virtual crowd shared their emotional response, with one woman commenting, "Thanks, I'm ugly crying."
Stevens discussed the importance of the support that Animal Krackers provides during the COVID-19 epidemic that has impacted both Kitsap Humane Society and the animals in the community.
"Animal Krackers exceeded our expectations this year," said Stevens. "We are grateful to the community and are thrilled with the turnout at our first virtual gala."
Animal Krackers was presented by Peninsula Subaru.