Introducing Canine U!
May 1, 2019
A Fun University for KHS Dogs!
Animal shelters can be stressful environments for dogs. With that in mind, Kitsap Humane Society's behavior staff developed a "Canine U" program that provides positive, science-based behavior and training support for dogs during their stay with us, and beyond into their forever homes!
This program provides individual curriculum for each dog in the care of the Behavior Department. The coursework includes fun activities like games, food puzzles and learning tricks.  A dog's challenges — including stress and/or fear-based behaviors  — can be relieved through this unique  support system. As dogs  learn new skills and become happier and better behaved, their ability to get adopted qui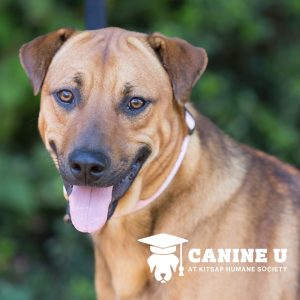 ckly is increased. Best of all, families who adopt dogs in Canine U will be provided with "coursework" of games and activities that will  help the dogs transition to their new home successfully.
Canine U program components include:
Progress Reports & Transcripts – information about each enrolled dog's history, personality and behavior needs
Advanced Educational Curriculum – teaching our smarties new games, tricks and skills
Post-Graduation Support – email and telephone behavior and training assistance during the transitional time after adoption
Continuing Education – including handouts, YouTube videos, and other resources
Keep an eye out for the Canine U icon on our dog's kennel cards to see which dogs are enrolled!