How to Start Running with Your Dog–Just in Time for PetsWALK!
June 12, 2018

PetsWALK is five weeks away — here's how you and your dog can get ready!
🐾 Start fundraising to earn cool prizes from our PetsWALK Prize Sponsor Kurgo! Setting up your fundraising page is EASY! Visit petswalk.rallybound.org to sign-up and find out more.
🐾 Start training with your dog so you're ready for the 5K! Kurgo has some great tips on how to make sure you and your pup are 5K-ready: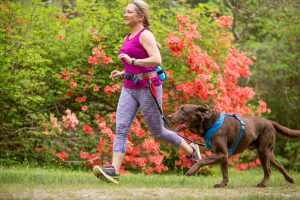 With summer almost here, it's time to venture back outside and leave the gym for the running trails. Your dog can be a great inspiration for running, pushing you to go faster and farther. Dogs also love routines and once you start going out each morning, your dog is going to keep you honest and get you up for the one thing they probably look forward to most with you! For those new to running with their dogs, it's important to prepare, train properly, and have the right gear. Here are some great tips from the active dog experts at Kurgo.
Tips Before You Run
Check if Your Dog's Breed is Suited for Running. Susan O'Dell, Kurgo's consulting vet, says "Whether you've just adopted a dog or your pup has been part of the family for years, it's important to consult your vet first to see if your dog's breed is a good fit for running." Snub-nosed dogs like Pugs, Bulldogs, Shih Tzus or Lhasa Apasos, often have trouble breathing during exertion and do not make good running companions. Very large breeds, like Bernese Mountain Dogs and Great Danes, are very heavy and have been bred for less exertion. Retrievers, spaniels, setters, pointers, labs, and some hounds are typically great running companions, but have your vet check out your specific dog's health.
Wait Until Your Dog is 18 Months Old. It's good to start early with a dog to get them used to the sport, but according to Dr. Brenton Gwinn of Palmetto Veterinary and Medicine, you need to be careful when exercising a new puppy. "The key is moderation. The number one cause of growth plate and soft tissue injuries is repetitive exercise with a young puppy, so leave your leash and running shoes at home until your pup is at least 18 months, when their growth plates have had the chance to close. Short, strolling and rambling stop-and-sniff walks are great for puppies and for socialization, but be prepared to leave your pups at home for distances."
Master Basic Commands. Steph Rousseau, a canine behaviorist and dog trainer, says "dogs should know how to reliably walk on a loose heel and always come when called even with a major distraction such as a rabbit or squirrel." Before you start running, you'll want to be sure that your dog won't start biting the leash, pull you or dart suddenly after something interesting.
Training for the Race
Short Intervals First: Dawn Celapino of Leash Your Fitness, who trains people to run 5Ks with their dog, advises first working short intervals of running into daily walks. If you build these short segments up each day, it will gradually ease your dog into running.
Increase Your Normal Walking Speed. Show your pup that you're ready to go by increasing your daily walking speed. By moving a bit faster, eventually increasing to a jog shouldn't be as big a change for your dog.
Follow a Set Training Plan. Even if you are already running regularly, your dog needs to train to be ready. Follow this 5K Training Plan created by Leash Your Fitness and you can go from Couch to 5K in 4 weeks.
Have the Right Gear
Harness or Collar? A harness is better for running with a dog, especially one with a v-neck construction. It allows your dog to pull slightly in front of you but not be choked. It also alleviates stress on the neck and shoulders, dispersing it across the chest. Good dog running harnesses are breathable and lightweight as well. A back handle can be handy if you need to suddenly grab your dog out of traffic.
No matter where you run, your dog should always be on lead if you plan to run road races. He/she needs to be used to this and by your side as they won't be able to run free on race days. There are many types of leash options. Bungee leashes are often preferred because they have give so that when your dog moves, he/she is not jerking you around. Many people prefer to run hands-free which requires a hands-free leash or wearing a dog running belt that has leash attachments. ­­­In terms of length, it depends on where you are running. In a city, a short lead of 30" might be safest. For trail runs, you can go longer such as a 48" or 54" leash.
Water Bottles & Bowls: When you need a drink, it's likely your dog does, too. Melanie White of @melvinonthemove is an experienced ultramarathoner and trail runner. She advises taking a water bottle or dog travel bowl along on your running belt and taking regular water stops. "It is a dog owner's responsibility to make sure that his or her pup is properly fueled and hydrated. Remember that running with your dog in heat is never a safe idea. While you may be able to tough it out, your dog cannot," she says.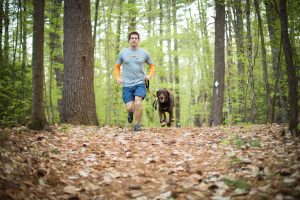 Just remember, this activity is supposed to be fun for you and your pup. If your dog doesn't eagerly get up when it's clear it's time for a run or seems sluggish or has no appetite post runs, they may be telling you that running is just not their thing. Check with your vet to make sure there are no health issues, but then look to other bonding activities like hiking or swimming that you can both enjoy. For more tips and a walk through the training plan, watch this Starting a Running Program with Your Dog Video.