Ways to Help in 2018
January 2, 2018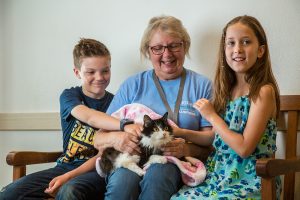 If one of your New Year's resolutions is to support animals in need, then look no further than Kitsap Humane Society (KHS)!
Animal welfare organizations can always use more volunteers, and we are no exception.  Whether it's socializing cats, walking dogs, helping with laundry, supporting community outreach events or fostering kittens, shelters and animal welfare organizations can connect you with meaningful ways to touch the lives of animals.
Events & Outreach Manager Kimberly Cizek Allen says, "Before beginning my employment with Kitsap Humane Society (KHS), I worked as a registered nurse and volunteered a portion of my spare time with KHS.  I started out as a foster parent, letting six little baby kittens invade my home and my heart.  I currently walk dogs, socialize cats, and plan our fundraising events.  Knowing that I am contributing to the welfare of these shelter animals and supporting the mission of this organization has enriched my life more than words can express."
KHS Volunteer Coordinator Ashley Short says that anyone can volunteer: "If you love cats, volunteer in the cattery.  If walking dogs is your thing, there's a dog here waiting to meet you.  You can volunteer in any way that you like.  We work with you to find the right activity that will give both you and our pets a great experience.  Many of our volunteers have been with us for over three years and their care, love and support makes a big difference to all of us and most importantly the helpless animals who pass through our doors on their way to forever homes."
All animals need care.  If more formalized volunteering isn't for you, consider helping those you know with their animals.  Often, elderly people need help exercising their dogs, cleaning their cat litter boxes, and transporting their animals to and from appointments.  If you have older folks in your life, consider helping them with the day-to-day care of their beloved pets. Help those you know keep their animals by assisting with some of their care.  Long work days are a part of many people's lives. Consider caring for a neighbor or friend's animals by letting them out to potty and stretch their legs midday. This small act of service can make a HUGE difference.
There are many ways you can be involved in touching the lives of animals in need. Volunteer.  Support other pet owners.  Get involved. A small act of service on your part can make a HUGE difference in the life of an animal. As behaviorist Karen Davison writes, "Saving one dog will not change the world, but surely for that one dog, the world will change forever."
For information about volunteering and fostering, visit www.kitsap-humane.org/get-involved/