'Treat' Your Pets for the Holidays
November 16, 2017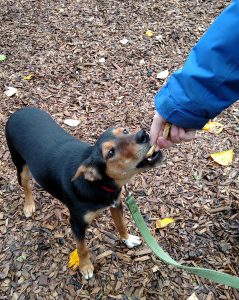 The holidays are on their way, and with them come many challenges to our health, ranging from stress, too much rich and fatty food, and not enough rest and exercise. All of these things are also hard on our pets – and when it comes to certain foods, can even be deadly. The good news is that by taking good care of your pet during the holidays, you are also taking care of YOU!
Below are some tips to help you and your furry loved ones enjoy the holidays:
Treats
We're all tempted from time to time to share people food with our dogs and cats. But the fatty, rich food that we enjoy over the holidays – such as gravy, stuffing, buttered everything, pie, and the like – is hard on the internal organs of our pets and can cause extreme belly aches and even deadly conditions such as pancreatitis.
Another option? Baking some healthy, low-fat treats just for your cat and dog! Both are easy to make with simple ingredients, and the dog treats, in particular, will make your kitchen smell yummy. (The cat treat recipes – not so much.)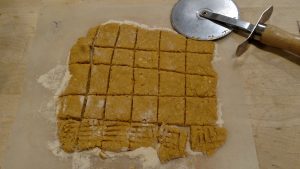 We found many treat recipes online, and lots of sites offer recipes that cater to specific dietary needs and preferences, such as being grain-free or vegan. We chose to make a tuna fish version of these easy salmon cat treats and these dog treats with just three ingredients: pumpkin puree, oats and peanut butter. (Add some salt, and humans like them, too!)
Taking time out to make these treats was fun, relaxing and rewarding. Our pets loved them! You can also put them in a canning jar with a custom label and tied with a cute ribbon, they make great holiday gifts.
Stress & Escape Prevention
When we get stressed, our animals feel it, too. Some of that stress (for humans and pets) can be from visitors coming in and out, routines being disrupted, and more noise and commotion than usual. All of these factors also increase the risk of our animals escaping from an open door or gate and getting lost. To minimize these risks:
If guests are coming and going and you can't watch over your pet because you're cooking or entertaining, consider setting them up in your bedroom or another cozy place with a closed door that's off-limits to guests. Play soft music and put a piece of clothing in your pets' beds so they feel safe and secure.
License your pets, and make sure they're wearing a collar and license tag. It's not only the best way to ensure your lost pet is returned to you, it's the law in Kitsap County and proceeds assist animals in need at KHS. You can purchase licenses for any jurisdiction in the county at Kitsap Humane Society, either at the shelter or online.
Exercise & Play
If you and your pets get plenty of exercise and play, there's a better chance they'll stay out of the tree, the packages, and out of trouble! Try and get outside for regular walks with your dog, engage in games of fetch indoors and out, and break out the catnip mouse, ribbon and other toys for playtime with your kitty.
If there's snow and ice, protect your pets' feet from extended exposure to avoid frostbite, and keep an eye out for substances that are tough on paw pads, such as salt and antifreeze.
If playing with pets indoors, keep pets safe by securing electrical cords, putting candles up high where they won't be knocked over by an enthusiastic tail, and by keeping breakable bulbs off the bottom branches of the Christmas tree.
With some advance planning and care, you and your pets can enjoy a happy and healthy holiday season!