Animal Krackers a record-breaking success!
October 4, 2017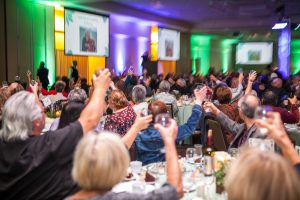 On Saturday, September 23, over 450 avid animal lovers joined us at Suquamish Clearwater Casino Resort for our 24th Annual Animal Krackers Presented by Peninsula Subaru. Greeted by freshly groomed adoptable ambassadors and scrumptious hors d'oeuvres, our guests were dressed to the nines and came ready to support shelter pets in need.
See the gala photos here. The evening began with a silent auction featuring artistic works, unique travel experiences, wine & dine packages and much more. During this time, guests were offered Golden Tickets to possibly win one of our live auction items. We sold 100 Golden Tickets at $100 apiece and each Golden Ticket holder had a 1/100 chance of being selected. The winning Golden Ticket holder chose any of the live auction items before the bidding began, and this year, our winner chose to have a unique piece of jewelry hand forged by Robin Callahan Designs! Guests also purchased Raffle Tickets, having the opportunity to win 15 bottles of wine donated by our Board of Directors. The silent auction hour was bustling, vibrant and fun. A great start to an evening of energy and passion!
Once seated for dinner, the live auction began. Animal Krackers Attendees bid on unique travel packages including a weekend in Whistler, a week in a privately-owned RV, and a trip to Los Cabos! We also auctioned off year-long naming rights for various shelter areas. (Naming rights for the Cattery went for $5,000 and the Main Dog Kennel went for $15,000!) Sprinkled amongst these fantastic experiences were a smattering of cocktails, auctioned off and delivered to each table.
With the energy high, we launched into something new for Animal Krackers … our first ever Dessert Dash! Sponsored by Tara Scouten—John L. Scott Real Estate and Robin Callahan Designs, this fun dash encouraged full table involvement. Guests pooled together their funds in hopes of being the table with the highest total contribution. The higher your value, the sooner you get to DASH for the dessert of your choosing. With fast feet and sharp elbows, our guests rushed to scoop up one of the delectable treats. We had desserts ranging from croquembouche to key lime pie with everything in between. Our dessert dash raised over $30,000 for our animals!
Energized by both movement and sugar, it took a moment for the buzz to settle down. As we moved into the crux of why each-and-every person was in the room that night, you could feel the anticipation and the passion pass between each guest. Check out the AK video to see Compassion in Action happening at Kitsap Humane Society and get in on the excitement of the night.
We are blown away by the generosity of this community. Your heart for animals is evident in the support you give our lifesaving programs and mission. Through one night of bidding, giving, and fun, we raised over $370,000 for the animals of KHS. WOW! What a night.
Thank you for your support! Thank you for inviting your friends and family. Thank you for donating items to our silent, live, dessert, and online auctions. Thank you for raising your paddles high in support of the work we do here at KHS. Thank you for helping us help the animals.