A Special Cat Goes To Sanctuary!
June 29, 2017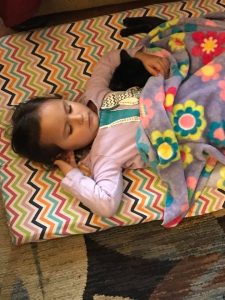 Friday is a super cute 11-month-old cat with special needs. He arrived at Kitsap Humane Society in early August after being found by a good Samaritan on the side of the road in Poulsbo. He was only about a month old when he was found, but his development and mobility didn't seem right. He would try to walk with his front legs, but appeared to drag his hind legs. He was barely able to eat on his own, and it wasn't clear if he would survive. Friday went into foster care with one of our most experienced foster parents, and came in regularly for vet exams and x-rays. It was determined by our Veterinary Services team that Friday had been born with a spinal deformity that would mean paralysis in his hind legs for the rest of his life, as well as digestive and continence issues that require special food and supplements. Unable to climb into the litter box, Friday's foster family quickly trained him to use puppy pads instead. He was doted on and give extra special care by his human foster siblings. Despite the sad diagnosis, Friday was a happy and healthy kitten, and we knew that Friday did not deserve euthanasia.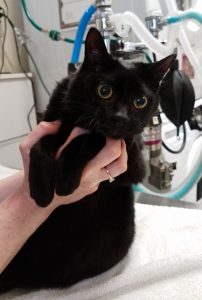 As a small kitten Friday could pull himself around on his front legs and seemed to enjoy zipping around as fast as he could! As Friday has grown, though, it became harder for him to drag his full body weight using his front legs. Even though he loved life, daily maneuvering was getting hard for him. As he grew and gained weight, it became more important than ever that Friday receive specialized care and a living situation that was conducive to his special needs. Due to his mobility and litter box challenges, we knew that Friday was not likely to find a typical adoptive home. At many shelters Friday would have been euthanized on arrival, or after his paralysis was deemed permanent. But at KHS, we believed Friday deserved a happy life. 
KHS is a Best Friends Animal Society "No More Homeless Pets Network" partner, which means that we work with Best Friends and other network partners on national adoption and lifesaving initiatives. Best Friends also runs an impressive sanctuary for animals in Kanab, Utah. It is the largest animal sanctuary in America, housing up to 1,600 animals at a time, and it has a whole area designated for special needs cats, just like Friday! Our Transfer Coordinator reached out, in hopes that maybe there could be room for Friday to join their special group of kitties.  Luckily, after months on a waiting list, Friday was accepted into Best Friends Animal Society's Sanctuary!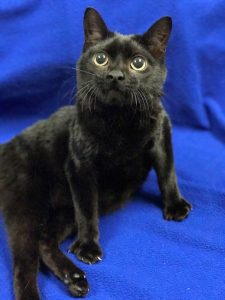 KHS staff was thrilled to hear that Best Friends would take Friday and giving him a loving, permanent home that met his special needs… but the sanctuary is 1,200 miles from Kitsap- how would this little kitty get there? Due to Friday's continence issues, the trip needed to be as short as possible to keep him clean and comfortable. We determined that the best way to get Friday to sanctuary would be to fly him and a human travel companion to Las Vegas, and then drive the three hours to Kanab. But that trip meant lots of expenses for a veterinary health certificate, airfare, a rental car, and lodging, so our team got onto social media to reach out to our community for help. With the help of 35 donors, we were able to raise a whopping $1,160 (more than our goal!) to cover all of Friday's travel expenses in just 24 hours! Arrangements were made, and Friday and our Transfer Coordinator, Amber, headed out on their adventure on Tuesday, June 20th.
When Friday and Amber arrived at Seatac to catch their plane to Vegas, they learned that the flight had been delayed due to the extreme heat in Las Vegas. It was so hot (116 degrees!!!) that it wasn't safe for the plane's  wheels to land on the asphalt! Instead of getting stressed by the long wait, Friday used the delay as an opportunity to show off, watch the air traffic control hub bub, and make new friends! When it was time to board the plane, it turned out Amber and Friday had a whole row of seats to themselves, so Friday was able to spend most of the flight enjoying petting and attention up on the seats (while still safely in his travel carrier).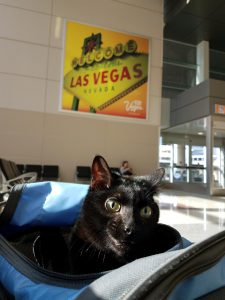 Friday handled the landing in Vegas like a champ! He did have to get a little clean up and wet wipe bath in the family restroom before hitting the road- it was important he look and smell his best for his arrival at Best Friends! Despite the long day of travel, and a trip that would send most cats into a tizzy, Friday remained calm, happy, and eager for attention. On the morning of Wednesday, June 21st, Friday arrived at the gates of Best Friends, ready for the next step in his journey! It was a beautiful, but hot, day when Friday arrived to his new home. He was greeted so warmly by the Best Friends staff. At Best Friends, Friday will receive around-the-clock care from a dedicated team of skilled caregivers. After his initial quarantine period, he will live in a special cage-free housing unit with other kitties with mobility issues, complete with enrichment, and special flooring and litter boxes all designed to make his life easy and stress-free.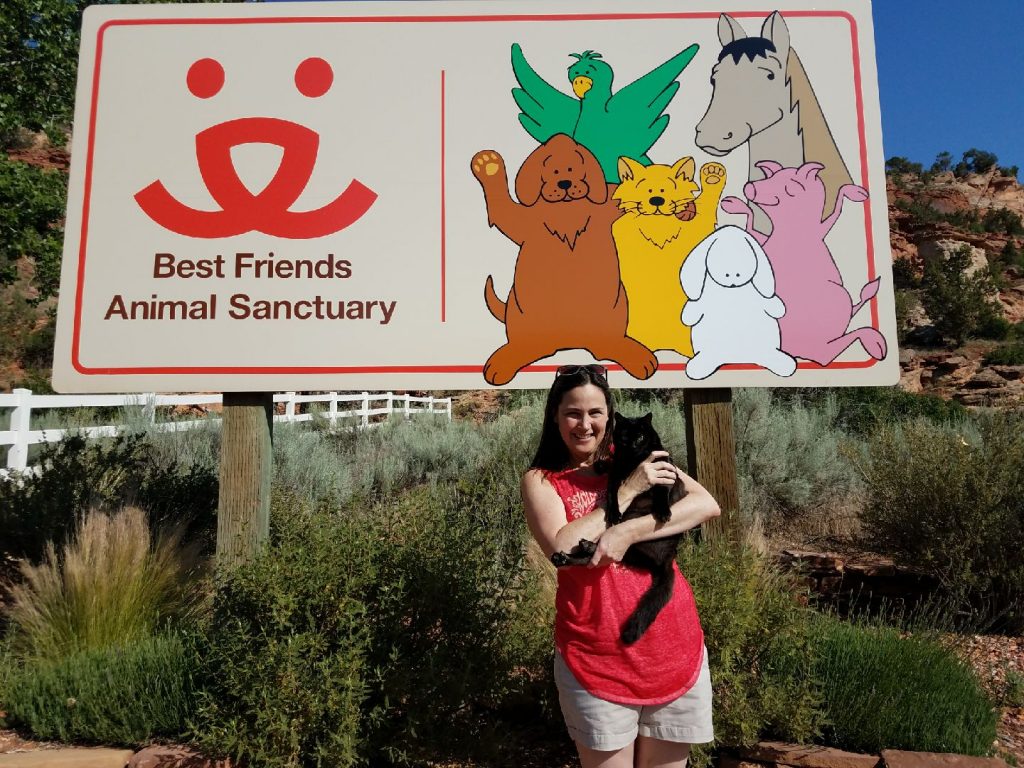 A week after arriving at Best Friends, his new caretakers checked in to give us an update. They report: "Friday is doing great!  He has become an instant favorite. The techs like to bring him out each day and cuddle with him."  Below is a photo of Friday in his new bed at Best Friends, and with one of his new caretakers. We are so thrilled that Friday has the opportunity to live out his life supported and loved, thanks to the generosity of our amazing community of animal lovers. Thank you to everyone (from his foster parent, to our Veterinary Services staff, and our wonderful donors)  who made Friday's journey from abandoned in Poulsbo, to treasured at sanctuary in Utah, possible!