Spring Cleaning? Think of KHS!
March 21, 2017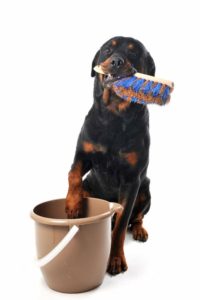 Spring is officially here! Which means many people will get started on spring cleaning at home and at work. While you're sorting through your items and deciding what to keep or toss, keep in mind that KHS can use many household items! Our full wishlist has a huge selection of items that we are always in need of that can be purchased new or donated used. We do ask that used donations be clean and in good working order.
Some items from home that you're ready to part with may be something we could really use to help care for the animals here, such as:
Towels, blankets, and sheets! Our animals go through hundreds of pounds of laundry a week and fresh stock is always needed.
Dog and cat crates and carriers! Our Rescue Me, foster, and adoption programs all have a high need for carriers and crates.
Scrubs and smock tops! Scrubs and smock tops from nurses and other health aides are used by our Vet Services team, when caring for sick pets.
Electric heating pads! No longer need your old school heating pad? Orphaned kittens in foster homes can use them!
Some items from your office that can be put to good use for the shelter's lifesaving programs are:
Pens (ballpoint, sharpies, dry erase)
Printer paper (letter sized, all colors)
Packing tape and duct tape
Paper clips and binder clips
If you're headed out to the store to stock up on cleaning supplies for your spring cleaning, consider adding a few extra cleaning supplies to your cart to donate to KHS!
Bleach
Paper towels
Rubber or latex gloves
Trash bags
Lint rollers
Magic eraser sponges
High efficiency (HE) laundry detergent