Livestock and Bad Weather
November 12, 2016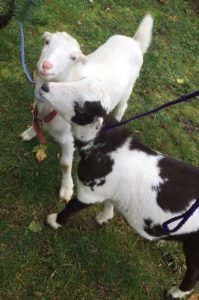 As fall and winter arrive, bad weather moves in and daylight becomes shorter and shorter. This October, Kitsap County saw record breaking rain fall records and the storms and power outages of 2016 are expected again this winter. Bad weather is not just an inconvenience for pet owners, but can actually be a safety concern- especially for pet owners with livestock. In the last two months the number of calls to Kitsap Animal Control and Kitsap Humane Society (KHS) about missing, found, and injured livestock has gone up significantly. Animal Control Officers have had to rescue and reunite wayward and injured sheep, goats, roosters, horses, and most recently a miniature pony! Some of the recent cases are pictured here.
When livestock go missing, they are prime targets for predators like coyotes and bears. Livestock are also at high risk of being hit by cars when trying to cross roads or lingering on the curb. Often loose livestock are found to have injuries from broken fencing or branches. For these reasons it is very important that livestock owners take time and care as fall and winter arrive to make sure their pets will be safe and protected in the dark and stormy weather.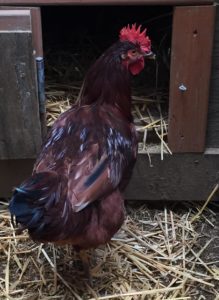 Why does bad weather and fall/winter weather mean more lost and injured livestock? With the lack of sunlight, many livestock owners find themselves doing barn chores in the dark, which can mean gates and barn doors unintentionally left open or unsecured. In large herds, one animal may not be noticed to be missing when visibility is low. When there are high winds or heavy rains, containment methods are often damaged. Animal Control Officers report that most missing livestock are due to breaks in hot wire/electric fencing and downed/broken fencing. Bad weather can spook livestock and so even animals that aren't typically escape artists might get loose due to a flight response to fear.
How can you protect your livestock? 
Prepare in advance:
Ensure your housing and containment is adequate. Different types of livestock have different needs when it comes to safe housing. The size and type of enclosure needed is not one size fits all. For example, fencing that works well to contain pigs (which root under fencing) may not be effective for containing goats (which can climb over fencing). Make sure that you have fencing and housing that is sufficient for each type of livestock that you have. Any and all doors or gates should have secure latches or locks that can withstand wind and animals pushing against them if spooked.
Be proactive about maintenance to your property and/or fence line. Downed trees and flooded ditches are a threat to fencing, so before the weather turns make sure to get any maintenance done in those areas. That may include tree trimming/removing branches from any trees that overhang fencing or livestock housing , as well as grading/leveling any uneven spots where fence posts may end up in unstable ground.
Make sure any livestock that are able to have identification on them. Horses, sheep, goats, and even pigs can have a pet ID with your phone number secured onto a halter or collar.
Take regular photos of each of your livestock so that if they do become lost, you have a recent photo that you can use on lost ads and to use to prove ownership when reclaiming your pet from a person or the shelter.
During the fall and winter:
Make regular (ideally daily, but at least weekly or before/after storms, and definitely after any storm) walks around your property line and fencing to check for any damage. Check to make sure that any hot wire/electric fencing is working and any wire or wooden fences have no breaks or rails down.
Take a census, at least once a day (ideally morning and evening), to make sure that every one of your animals is accounted for (and that gates/doors are secure). The sooner you realize one animal is missing, the better the chance you have of finding that animal.
Repair and reinforce housing and fencing as soon as weakness or damage is identified. Having supplies on hand so that you can repair or replace a fence rail ASAP can mean the difference between having a safe animal or a missing animal.
If you do lose livestock:
As soon as you notice one of your animals is missing, get the word out to neighbors. Livestock are often found just down the road or a few houses down from their home. Leave your neighbors with your name, phone number, and a detailed description and/or photo of your animal so if they find your animal or get contacted by someone that does, they can reach you right away.
Notify KHS that your animal is missing- send an email or stop by the shelter with your name, address/area animal was lost from, your phone number and detailed description and/or photo of your missing animal. By notifying KHS, shelter staff and Animal Control Officers can keep an eye out for your animal if it comes to the shelter, or if someone in the community contacts the shelter about having seen or found your animal.
Get the word out that your animal is missing (including your contact info, area the animal was lost from, detailed description/photo) on the internet:

Add a lost/missing post on the Facebook group: Kitsap Lost and Found Pet Search
Post your lost pet on your own Facebook page (make sure to make your post's privacy setting "public" so that your friends and followers can share it to their friends and followers for farther reach).
Post your lost pet on any neighborhood group on Facebook (many areas have Community or Neighbor groups on Facebook) for your area.