All Adoption Fees Waived 11/25-11/28
November 21, 2016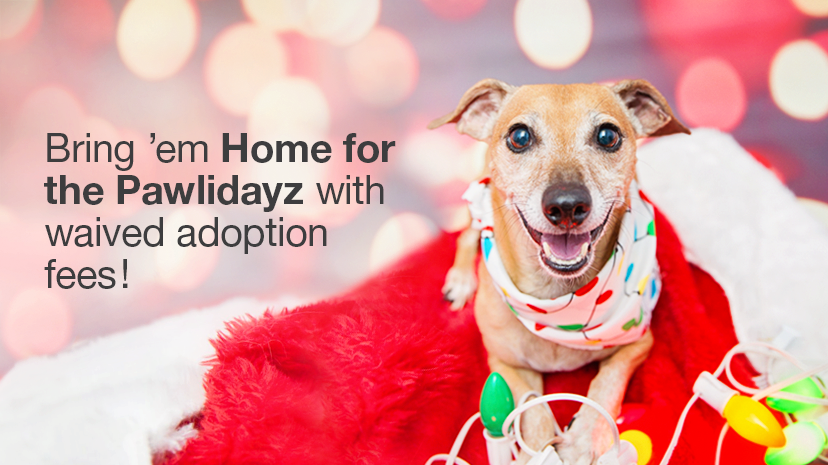 The holiday season is about family, and this Thanksgiving, we're inspired to complete more families than ever and give homeless pets the gift of a home for the holidays! We are partnering with Best Friends Animal Society and Zappos.com to offer fee-waived (FREE!) adoptions for ALL shelter pets (kittens, adult cats, puppies, adult dogs, and small animals!) starting on Black Friday (11/25/16) and going through Monday (11/28). During this special "Home for the Pawlidays" event, Zappos.com will cover the adoption fees for all families who come in to give a pet a loving home. Adopters will only have to cover the cost of a pet license (if applicable) and will be able to purchase supplies like carriers, collars, leashes, and litter boxes.
Hundreds of pets will be available for adoption during the event- pets saved from our local community and pets saved from our partner shelters through our Rescue Me program. Our goal is to find homes for over 120 homeless pets during the event, or even better… to empty the shelter! Staff and volunteers will be on hand to help every customer find the right pet for their lifestyle. All adopters will still go through the standard adoption process, including application, counseling and approval process.
Event Dates and Hours:
Friday, November 25th
Saturday, November 26th
Sunday, November 27th
Monday, November 28th
Adoption hours each day: 12:00- 5:30 pm*
*New adoption applications must be submitted by 4:30 pm (to allow time for meeting the animal, processing paperwork, etc before closing time).
Event Location:
Kitsap Humane Society, 9167 Dickey Rd NW, Silverdale, WA 98383
Some cats will also be available Friday-Sunday at Silverdale Petsmart (9589 Ridgetop Blvd NW)
HAPPY PAWLIDAYZ!