Puppuccino Pals Spread Smiles!
August 16, 2016
Our Dogs are Famous!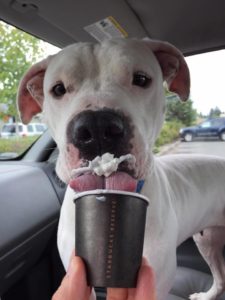 There is no "one size fits all" shelter experience and KHS' staff and volunteers goes to great lengths to ensure that each animal here at KHS receives individualized care and attention.
One fun and unique way dogs get a break from the shelter is a ride in the car with KHS volunteer Molly Clark to get a Starbucks Puppuccino (a small cup filled with whipped cream). KHS staff then uses the adorable pictures of them lapping up yummy whipped cream to give them exposure on social media to potential adopters!
On August 15, The Dodo, a popular news source for animal related stories and videos, featured a story on KHS' Puppuccino pals! It is a really awesome article that is exposing KHS and our dogs to a whole new audience!
Read the article by clicking here!
You too can follow the Puppuccino Pals adventures. New photos are posted on our Instagram every Tuesday. Follow-us on Instagram @kitsaphumanesociety and like us on Facebook to get your daily dose of adorable animals.
Here are more photos of Puppuccino Pals to make your day great!