Happy Tails- Simon!
February 4, 2016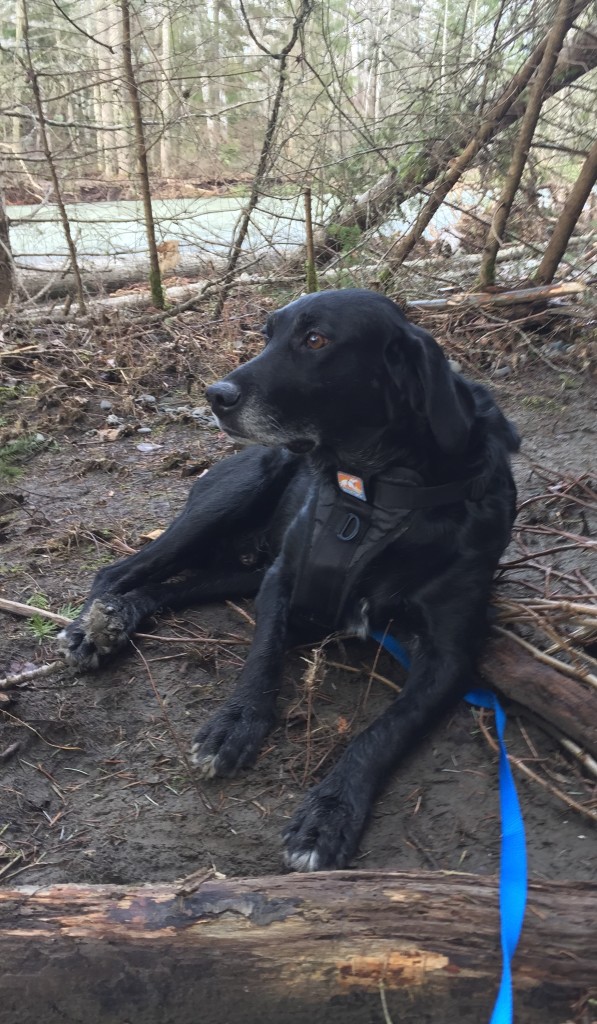 Hi. I thought you might like an update on Simon (adopted in December).
He is doing really well. We have discovered his favorite things to do are sleep on the couch, ride in the car, walk on the beach at the harbor and steal food off the counter.  His favorite foods so far seem to be banana's, avocado's, oranges, apples.  You can't have one in hand and not have very pleading eyes asking for his share.  At least one banana and an avocado have vanished off the counter when my back was turned never to be seen again.  It's nice to know he has a healthy aspect when choosing his snacks.
Simon is getting plenty of walks in new places though we haven't made it out to the ocean yet.  He enjoys watching the seals and seagulls over in the harbor when we visit on the weekends.  While Simon is getting plenty of walks they are still short ones.  His arthritis only bothers him now, after chasing squirrels into a heap of logs and bushes.
Simon hasn't quite made friends with the kitties yet, but he is being patient and trying very hard to get a least one of them to come play.  I think that may still be awhile.
He has learned a few new tricks and now shakes paws quit happily and freely even if it's to just get a belly rub.  We've got a few other things to learn but he's getting there.
I'm very glad to have been able to give Simon a home.  He's become a very special furry friend.  I'm sure he'll be keeping me very busy for many years to come.