Improve The Lives Of Shelter Pets Today!
With your support, KHS is there when people and pets need us most.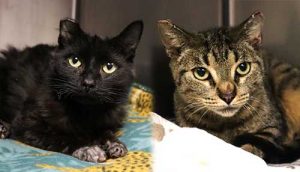 ×
Meet Wyatt and Ripley, two young cats found in remote Southwest Oregon in the path of a wildfire. Found terrified and frozen as a sweeping blaze fast approached, they had already begun to suffer burns and smoke inhalation when thankfully, they were spotted by first responders.
After a harrowing rescue, Wyatt and Ripley were transferred to KHS from one of our partner shelters. Upon their arrival, our veterinary team continued to treat significant burns on their paws, scorching to the tips of their ears, and singeing on their faces and whiskers.
Our shelter caregivers ensured they recuperated in a calm, soothing environment with minimal disturbance. These precious pets were allowed plenty of time to recover both physically and emotionally. And we are happy to share that both were quickly adopted into well-matched, forever homes.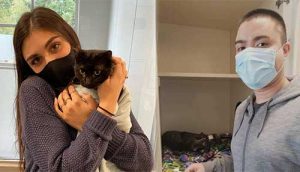 ×
100% of your donation will fuel our mission and turn suffering and neglect into safety and love for over 6,000 cats and dogs each year.